Based in naarm/Melbourne, Australia, Jessie French's work explores speculative futures through algae-based bioplastic and ocean ecologies.
Housed within an ethos of consumption, sustainability and regeneration, her work invites others to engage with the possibilities of a post-petrochemical world. Through experimenting with other materials, she explores the potential for closed-loop systems of (re)use and conscious consumption and interaction with objects.
In early 2020, Jessie embarked on a research residency in Morocco, the source of most of the world's agar, as a member of
Seaweed Appreciation Society International
. As part of research conducted while on residency in Morocco in early 2020, she visited sites of the agar supply chain to investigate the sustainability of the material and potential issues surrounding its use in her practice. During this time, she met with a range of marine experts, agricultural scientists, people developing aquaculture initiatives, local harvesters and directors and lab technicians working at the only agar processing plant in Africa, Setexam, which produces more than half the world's bacteriological agar and a good majority of food and other technical agars.
From this and alongside further development in-studio back in Melbourne, a range of agar-based bioplastic tableware vessels have been created. Whilst also embodying aesthetic qualities reminiscent of Venetian glass and the seductive qualities of resin, they can hold liquids and heated food products and withstand extensive physical handling and regenerative re-cycling as part of a closed loop system.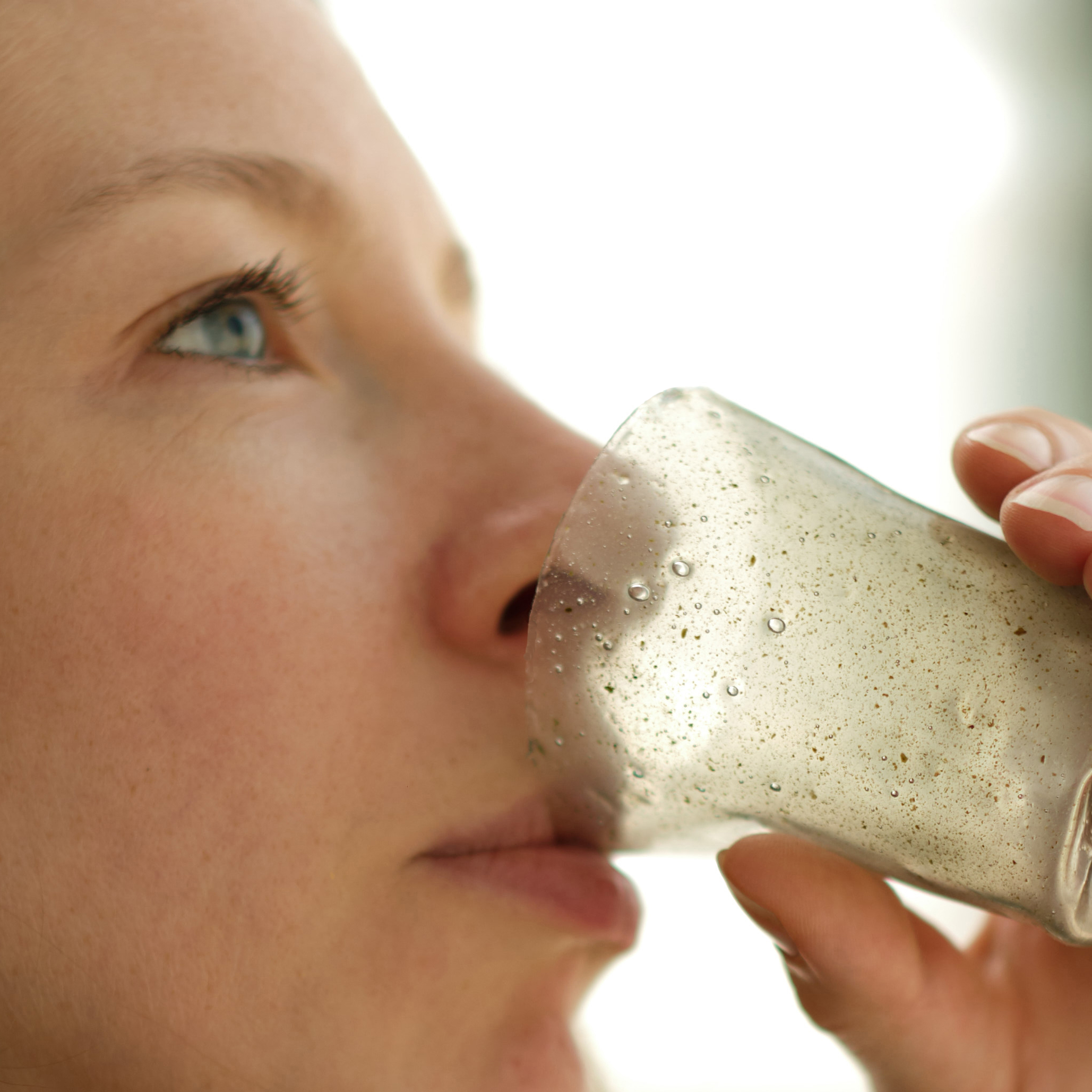 Photo by
Benjamin Thompson
.
Jessie French is an artist, experimental designer, and beekeeper working with bioplastics and currently undertaking study in the history and philosophy of science at the University of Melbourne. Her practice explores consumption, symbiosis, ecology, science and technology in the context of human experience amidst human-driven environmental crisis. She is interested in engaging with environmentally vital issues and experimental artistic projects refracted through the lens of science.

Jessie has exhibited at art fairs and design weeks and with institutions including Science Gallery Melbourne, Ars Electronica, Melbourne Design Week and the 1-54 Contemporary African Art Fair. She has lectured at universities in Melbourne and Morocco including the University of Melbourne and Mohammad VI Polytechnic University to students studying art curation, arts management, agriculture and material science. She has contributed to studios as a guest contributor sharing advice and knowledge specific to her bioplastic practice with Sydney University, Monash University and RMIT University students studying architecture, fashion and textiles.
She is experienced in producing public programs that involve cross discipline pairings involving experts in science, dance, cultural practice, anthropology, ecology, ethics, technology, music, performance and experimental art.
Selected exhibitions
Seaweed Salon, Ars Electronica, September 2020

An online workshop series by Seaweed Appreciation Society International featuring how-to guides to making edible bioplastic and seaweed cocktails.
Extra-Terrestrial Terroir, March 18 2020
A dinner planned to take place at the Meat Market Stables as part of the Life and Death exhibition, where the sculpture we contributed to the show would be put to death, and transmutated into a dessert course for guests during the dinner. Due to COVID-19, the event was not able to take place as planned. Instead, the dinner altered to be take-home packs for those who had booked.
Life and Death, Meat Market Stables, Melbourne Design Week, March 2020
A group exhibition of Australian designers exploring the life and death of objects. Planned dates were 12-21 March, however the show was shut down three days after opening due to COVID-19.
Seaweed Future: Red Gold, Marrakesh, Morocco, February 2020

An exhibition curated by Roxane Alaime Bauzå presenting work developed during La Pause artist residency, as part of the 1-54 Contemporary African Art Fair.
Selected publications
Cultivating, Cooking, and Consuming in Times of Collaborative Survival, forthcoming publication (2021)
A book by Swiss-based curator and artist
Grace Denis
with contributions from a collection of artists from around the world responding to the theme of collective survival in the face of environmental crisis. Contributors include Anna Tsing, Eden Batki, Jo Vavra, Jessie French, Terrapolis Collective and more.
Positive Messages No. 1 (2020)
Published by P.A.M and INNEN in Hungary featuring contributions from Francesca Gavin, Jessie French, Kiki Kudo, Anne Dressen, Alexis Le Tan, Misha Hollenbach, This Long Century, Peter Sutherland, Ursula K. Le Guin, Emma Kohlmann, Anna Tsing, Donna Haraway, Sanja Grozdanic, Haruka Spring, Felicia Atkinson, Yamantaka Eye and more.
Selected professional practice
Seaweed Appreciation Society International
, founding member, 2019—present
Hypotheticals
, with Helen Marcou AM, 2018—present
Honey Fingers Collective
, beekeeper, 2018—present
Bus Projects
, directors advisory board, 2018—present
City of Melbourne
, curator and creative producer, public programs, 2017—2019
The Place Agency
, curator, 2018—2019
MPavilion
, deputy creative director, 2016—2018
MPavilion
, associate producer, 2015—2016
MPavilion
, assistant producer, 2014—2015
Goodtimes Studios gallery and event space
, assistant general manager, 2011—2013
I acknowledge the Wurundjeri People as the traditional custodians of the land on which I live and work, whose cultures are among the oldest living cultures in human history and who have one of the longest creative human histories on Earth. I pay respect to Elders of the community - past, present and emerging - and extend this respect to all First Nations people. It is a privilege that we can name these people and celebrate this sixty-thousand year history of their culture. I recognise that sovereignty was never ceded. My country has a rich history and its Indigenous peoples have unique cultural and spiritual relationships to the land, waters and seas.
Copyright Jessie French 2020